Action Surveillance
Assigned

JRG: 7½ KFC: 2
Prev assigned
Tasks adressed
Time estimated

9½md
Time remaining

1md (testbed)
Time used

15md (KFC, includes testbed)
Priority

5
Status

In progress
Iteration

23,24
Notes
Take a look at the architecture diagram of HighLevelDesignDocumentation, and agree about which aspects should be under BigSister surveillance.

Design how to expose the relevant details to BigSister. Design a webservice that gathers surveillance-relevant details from the different webservices, and exposes it as html, regexp'able for Maintenance and pleasant enough for the open source community.

Implement webservice and whatever else is needed, designed in the previous step. Review it, and test it.
Write a guide for Maintenance, detailing how they should monitor our system.
Ideas for design (point 2), which arise from discussion:
A webservice called Surveillance which collects info from different logging-webservices.

A logging-webservice for each of the webservices (of the architecture diagram of HighLevelDesignDocumentation) which need surveillance, that is: "Fedora Repository", "Bitstorage integration", "ECM", "DOMSServer Main webservice", and "DOMSServer Search webservice".

Each logging webservice will provide the following to a caller:

Different points of interest from the running state of the "mother"-webservice.
Information extracted from the log4j-logs of the "mother"-webservice.

We are aiming to use a standard framework to analyze the log4j-logs (logfactor5?)

For all "mother"-webservices, a logging framework...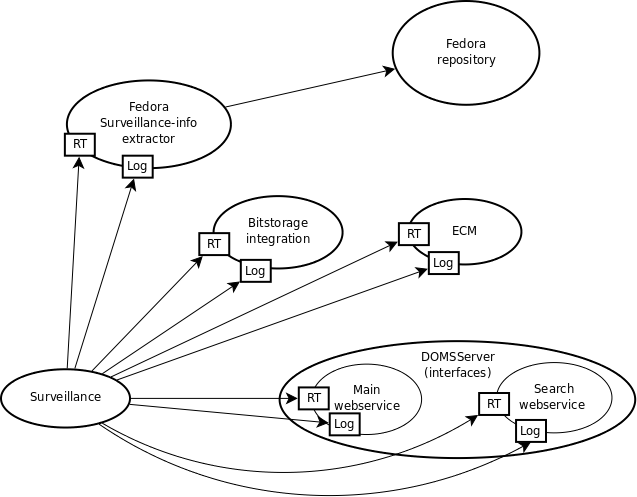 Legend:
RT - Real time information about the state of the webservice
Log - Log4j logged information from the webservice



Checklist For Working On An Action
The Life Cycle of an Action:
Assign people for action definition: Done at start of iteration status meeting. Fill out Assigned

Define the action: Describe information about what is to be done and how. Fill out Tasks Addressed and Time Estimated.

Review the definition: Get another project group member to review the action definition, and update it.

Assign people for action implementation: Done by project manager, usually the same persons who wrote the definition. Fill out Assigned and Prev assigned if new persons are assigned.

Implement the action: See details below

Review the action: Get another project group member to review what is implemented (code and documentation), and update it.

Finish the action: Change the status to "Finished" and update the "time used" field on the action page.
Please make sure that you address the below issues, when working on an action:
Update the state of the action to "In Progress" when you start working on it.
Check if the tasks addressed by this action have their status set to "In Progress". If that is not the case, then change the state of them.

Keep track of how much time that has been spent working on the action. If it addresses more than one task, then make a note on the action page about how much of the elapsed time that has been spent on the individual tasks. Hint: Continually updating the "Time used" field will make it easier for you.

Update the "Progress History" and documentation pages of each task addressed by this action when appropriate. This depends on the situation, but in general, the task pages should hold all important related information about the work done, experiences gathered, identified requirements and so on.